If you are a graphic designer and looking for great marketplaces to earn passive income by sell your own designs online, this article is actually for you.
It is true that, more and more graphic designers are looking for a way to earn more money than the usual client work in a marketplace or with direct client work.
Nowadays it is easy to share someone's own creativity with others and make extra cash. There are many websites or marketplaces that can show your premium designed products in different views for selling. And in return, you can earn commissions.
Sell Designs Online Marketplaces
Today I am writing about some marketplaces where you can sell graphic design online and earn passive income by sell designs. Envato, Creative Market, Etsy, etc are the places where people sell their designs. But do you know that there are a lot of marketplaces where you can sell your products, control your price of the products and can have a maximum share of the profit?
Here I am writing about 50+ best marketplaces where you can find many new buyers.
Creative Market is a large market for designers to sell digital files such as Icons, Illustrations, Web Elements, Objects, Patterns, Textures, 3D Models, fonts and web design.
You can set your own price and takes up to 70% of each sale. Unlike other websites, Creative Market is not subject to exclusivity. This means you can sell the same product on another platform without restrictions.
GraphicRiver is a website where designers and other creatives can buy and sell digital graphics, photos, vectors, and other design elements.
It is the best marketplace for graphic designers to sell premium design templates and stock graphics like logos, business cards, fonts, print design, Photoshop, InDesign, Lightroom, icons, business cards, and more. For every product, you can set your own price.
Shutterstock is a stock photography marketplace where people can go to buy and sell digital assets.
Here you can buy or sell photos, illustrations, vectors, videos, templates, music, and sound effects for businesses and individuals. New Shutterstock contributors earn $1.88 for every On-Demand Image download, but once they make $500, that rate goes up to $2.48.
ThemeForest is the leading site for selling and buying web templates and WordPress themes. If you cannot code, you can also focus on the PSD template category. Another way to selling there is that you can find a developer to work or build a team with.
Freepik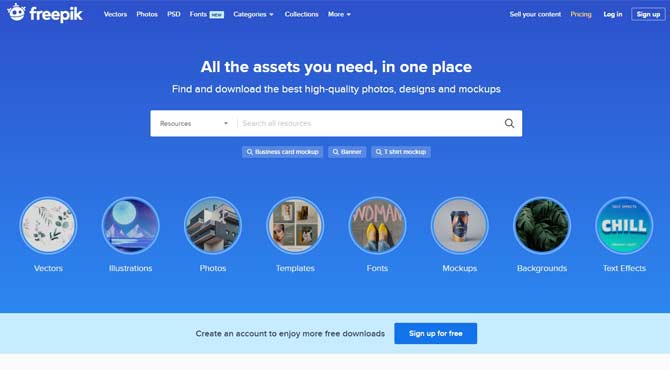 Freepik is a top resource site for vector graphics for graphic designers. There are a lot of resources that help visitors to find free vector art, illustrations, icons, PSD and photos for use in websites and banners.
Graphic designers can earn money from here by submitting premium resources. This is another awesome way to sell designs online.
MasterBundles is a big marketplace with over 6 million members, where you can buy illustrations, SVGs, fonts, templates, patterns, textures, stock content, add-ons, and other products for web, graphic designers, and other creatives. A key feature of this platform is that it offers designs packaged in bundles, available at low prices! The discounts can go up to 99%.
Designers can easily create their product pages by using the Sell Your Deal form and start selling them right away.
Sellfy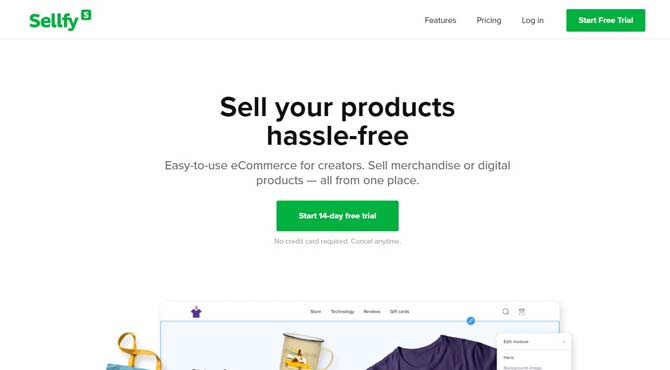 It is a place where digital products are sold and also to expand their activities they are now selling their own digital products. They sell eBooks, Audio, Video, and software along with their main event web design with many categories.
Sellfy is a place where you can relate it with social networks and give them a social discount. They will get 5% share of the sold products.
Luvly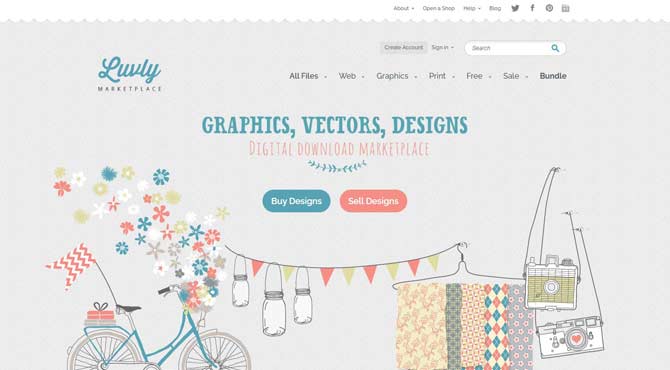 Luvly is another non-exclusive marketplace that can be described as cute or feminine for graphics designers. There is a huge collection of digital design, font, clipart, WordPress theme, and blogger template. They cut $20-$40 depending on the amount of the sale.
MotionElements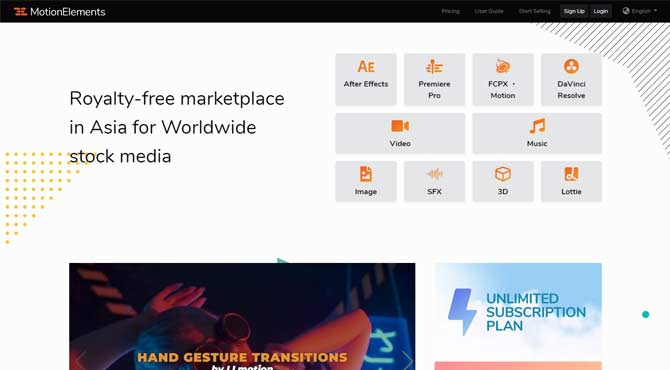 Here 2D/3D animation, stock video clip, video background, and other stocked motion contents are sold. They charge 30%-50% of the sale.
MOJO Marketplace
It offers a premium product for branding your website and expanding it. It adds plugins, graphics, and logos in themes. Designers can upload their logo design, business card, vector graphics, font set, and stocked graphics.
Many hosting companies are involved with this marketplace as partners. As a result, they get the opportunity to have premium distribution of their product.
Canva
Canva is a very simple graphic design software by which personal designs can be made for web or print. They highly depend on infographics, banners, flyers, picture colas, album covers, social media graphics, pro design templates and so on. Designers can publish their designs use. Its royalty now is 35%.
Society6
Society6 is one of the better-known platforms for artists to sell their work. At Society6, sellers create one design that can be printed across multiple platforms like phone cases, T-shirts, mugs, tote bags, tapestries and art prints.
The nice thing about this setup is that it's not very labor-intensive for the seller; Society6 takes care of the printing and shipping. Plus, artists retain the rights to their artwork.
Iconfinder
It was first introduced just to joint icons and as a search engine, but now it has become an icon bazar. It has more than 4 million icons. Here designers, developers, and other creative persons search for premium icons for their next creative work.
They pay on a monthly basis. So you have to wait for one month for your payment. The lowest cash out is $100.
Fantero
Fantero is a virtual marketplace for designers and freelancers. They collected 2 million digital items from 1 million users. this was made so that photographers can sell their stocked pictures. The free starts from 25%-50% depending on the amount of sale.
Picfair
It is a place where photographers can sell their photos and fix prices and keep the copyright. It has a unique feature that is different from other market place. You can use one license for all of your pictures.
There is a high-quality search engine option named Picfair tag or topic function by which buyers can easily buy their required picture. Details like information of the picture, resolution, date, model on the camera are noted there. They cut 20% commission on pictures and a small processing fee.
More Online Marketplace To Sell Graphic Designs
Shapeways: It is a 3D marketplace and 3D printing service. Here designers rea invited to upload their 3D publishable files and Shapeways do the rest. Depending on your markup, it takes 3.5% fees.
Glstock: Sell logos, icons, illustrations, templates and more through this site. Graphic Leftovers pays higher royalties than many comparable sites.
Brandcrowd: BrandCrowd is an online marketplace for premium, ready-made logos and brands. Designers create a portfolio where they can upload completed but unused logos and brands. Buyers can freely browse thousands of designs for sale and purchase them for the price listed or make an offer for the designer to consider.
Pixabay: People are prompted to donate after they download the artist's photo, Illustrations, Vectors, and videos. The donation will then go straight into the artists paypal account, minus transaction fees.
Flaticon: Flaticon is the largest search engine of icons in the world. Flaticon offers users, high-quality graphic designs. Icons can get SVG, PSD, PNG, EPS format or as ICON FONT format.
Vecteezy: Vecteezy is a leading global provider of vector graphics. Over a million vectors, clipart graphics, vector art images, design templates, and illustrations created by artists worldwide!
Vectorstock: Vectorstock specifically developed to represent the best Vector only images, graphics, icons & illustrations.
Motionelements: MotionElements is the leading marketplace in Asia for worldwide stock media. The vibrant marketplace offers everything from stock video footage, music, 3D, After Effects, Premiere Pro etc.
Designcuts: Design Cuts is a community website offering high-quality assets to designers. Here you can sell Illustrations, Infographics, Patterns, Textures, Business Cards, Brochures, Logos, Powerpoint UI Kits, etc.
Design By Humans: A community of creative and unique designers. This is a print on demand (POD) marketplace. Designers can sell T-Shirts, Sweatshirts, Tank Tops, Leggings, Swimsuits, Mouse Pads, Phone Cases, Backpacks, Coffee Mugs, Stickers, and Hats.
iStockphoto: Sell photos, illustrations, flash, video, and more through this quality-controlled site.
VectorStock: Sell vector stock images through this site. Here you can publish Vector Graphics, Symbols, Illustrations, Icons, Design Elements, Logos & Clipart.
Myfonts: Sell your fonts as part of the largest font collection online. The #1 place to download great @font-face webfonts and desktop fonts
Cutcaster: Sell your digital images and vector graphics, along with the stock video. Also affordable illustrations and stock photos for blogs, websites, advertising, and publishing.
Linotype: This site actively seeks new font designers to add to their collections.
VideoHive: Sell your After Effects, Premiere Pro, stock video footage, apple motion, motion graphics, and cinema 4D templates. This is one of the sister concerns of the Envato market.
Crowdspring: Work on spec on a variety of design projects, competing against other designers. This is a trusted marketplace for graphic design, including logo design, website design, product design and naming your business.
Redbubble: Another artwork marketplace where you can sell wall art, t-shirts, calendars, and greeting cards. Redbubble is a safe and reliable marketplace for Print on demand (POD).
Threadless: Design a t-shirt, submit it for voting, and if it's one of the best, see it made and sold. Also, awesome art prints, iPhone cases, and more featuring unique designs can be sold.
Imagekind: Sell artwork in a variety of formats – framed, canvas, posters, greeting cards and more.
Spreadshirt: Create custom t-shirts to sell. This is an e-commerce company that offers print-on-demand for clothing and accessories.
Inprnt: This marketplace is best known for art, framed art, canvas, acrylic, phone cases, art cards, gift cards, fine art, graphic design, illustration, and photography. Inprnt's commitment has always been to put artists first.
Zazzle: Put your designs on unique products to sell. This is an American online marketplace that allows designers and customers to create their own products
Your own website
While existing platforms offer a ready-made audience and lower barriers to entry, if you have built a strong customer base, it might be worth creating your own online store. Where you won't have to pay listing commission to others.

At the moment it is highly recommended for building a digital store or online shop by WordPress and WooCommerce.

Another hand if you thinking about building a marketplace, so Dokan Multi Vendor Store is the best solution for you. Also, check our eCommerce website design packages.
FAQ's
What software do most graphic designers use?
Adobe Photoshop is the most popular software used by graphic designers. They also use Adobe XD, Adobe InDesign, Adobe Illustrator, Inkscape, Sketch, Affinity Designer, GIMP, Xara Designer Pro X, Gravit Designer, Photoscape, Genially, Vectr, etc.
What type of graphic design makes the most money?
It depends on a variety of factors, such as the designer's experience, location, and the type of clients they work with. However, some of the most profitable areas of graphic design include branding, web design, and packaging design.
Where can I sell my graphic designs?
There are a lot of places where you can sell your graphic designs. One is online through platforms like Etsy, Creative Market or Envato. You can also sell your designs offline through boutiques, gift shops, or even through your own website or blog.
What Do Graphic Designers Do?
Graphic designers create visual concepts, using computer software or by hand, to communicate ideas that inspire, inform, and captivate consumers. They develop the overall layout and production design for various applications such as advertisements, brochures, magazines, and corporate reports.
What to Do if Someone Steals Your Design?
If someone steals your design, you can file a copyright infringement lawsuit against them. To prove copyright infringement, you will need to show that you own the copyright to the design and that the infringer copied it without your permission. You can do this by showing that the infringer had access to your design and that their design is substantially similar to yours.
Which software is best for graphic design for beginners?
The best software for graphic design for beginners will vary depending on your specific needs and preferences. However, some popular choices for graphic design software include Adobe Photoshop, Adobe Illustrator, and Inkscape.
How Long Does It Take To Become a Graphic Designer?
The amount of time it takes to become a graphic designer can vary depending on a number of factors, including your prior experience, education, and training. However, most graphic designers typically complete some form of postsecondary education, such as a bachelor's degree, before entering the field. Also, you may consider your local area graphic training institute or online graphic training course.
Can I learn graphic design in 6 months?
You can learn the basics of graphic design in just 6 months. It will take longer to become a proficient graphic designer, but you can start creating designs that are both functional and aesthetically pleasing in just a few short months. Just remember, practice and practice make perfect a man perfect.
Final Thoughts
So, you already know that you can earn money online by selling graphic design. Whatever route you decide to take, you can be sure that there's a market for your skills. So get started today and make some extra cash from home by using your graphic design talents!
Have another site to recommend? Tell us more about it in the comments or by email.