NordVPN is a popular choice for keeping your online stuff private and secure. It's got lots of users all over the world, and experts really like it. Here's why: It's super fast, has lots of servers all around the world, keeps your stuff safe, and lets you watch and download things without any problems. This year, it's still one of the best VPNs you can get.
NordVPN makes sure they don't keep any records of what you do online, and they've had smart people check to make sure they're doing it right. It's a good deal for your money, whether you're new to this or you know your way around.
If you want to know all the nitty-gritty details about NordVPN, like how it works and how good it is for watching stuff, keep reading our NordVPN review. We checked out more than 50 VPNs, and NordVPN came out on top as the best choice.
NordVPN Specifications
| | |
| --- | --- |
| 💵 Price | From $3.19 a month |
| ⭐ Rating | 4.9 |
| 📱 Operating systems | iOS, Android, Linux, Windows, Mac |
| 🖥️ Servers | 5,700+ servers in 60 countries |
| 💳 Payment methods | Cryptocurrency, Other, Credit card |
| 🔒 Protocols | Wireguard, OpenVPN, IKEv2 |
| 📥 Torrent options | Torrenting allowed |
| 📅 Money-back guarantee | 30 Days |
| 📖 Logs | No Logs |
| 🎬 Works with | Netflix, HBO, Disney+, Kodi, Torrent, Hulu and more |
NordVPN: Pros and Cons
✅ Pors
Multi-hop, split tunneling, and Tor connections for advanced security.
Sleek and user-friendly design.
Built-in antivirus tools enhance protection.
Impressive speeds and reliable performance.
Comprehensive security features, including a strict no-logs policy.
Successfully unblocks streaming services like Netflix.
Dedicated Tor and P2P VPN servers for specialized needs.
DoubleVPN option for added security.
Availability of dedicated IPs.
Effective in hiding your IP address and safeguarding personal data.
❌ Cons
Expensive
Lacks a graphical interface for Linux users.
No unlimited free plan available.
Proprietary WireGuard variant (NordLynx) reduces transparency.
Requires web-based login instead of in-app login.
NordVPN features
In an era where online privacy and security have become paramount concerns, virtual private networks (VPNs) have gained immense popularity. Among the many VPN providers available today, NordVPN stands out as a reliable and feature-rich choice.
1. SmartPlay: Enhancing Your Streaming Experience
Streaming content has become a daily pastime for millions of people worldwide, but it can be quite frustrating when you encounter regional restrictions or slow connections.
NordVPN's SmartPlay feature comes to the rescue by seamlessly combining the benefits of a VPN with unrestricted access to your favorite streaming services.
SmartPlay is essentially a combination of a DNS proxy and a VPN service. When you connect to a NordVPN server, SmartPlay kicks in automatically. It redirects your DNS queries through a server in a location where your desired streaming content is available.
As a result, you can access geo-restricted content with ease. This feature works flawlessly with popular streaming platforms like Netflix, Hulu, Amazon Prime Video, and more.
Additionally, SmartPlay ensures fast and stable connections, optimizing your streaming experience by bypassing throttling and buffering issues that are sometimes encountered when using a VPN.
2. Specialty Servers: Tailored for Your Needs
NordVPN offers a wide range of specialty servers, each designed to cater to specific online activities and needs. These servers are strategically located around the world to provide users with optimal performance, security, and convenience.
Here are some of NordVPN's specialty server options:
Double VPN: These servers route your connection through two VPN servers, adding an extra layer of encryption and anonymity. It's an excellent choice for users who prioritize maximum privacy and security.
Obfuscated Servers: In countries with strict censorship and VPN restrictions, obfuscated servers can help you bypass such limitations. They disguise your VPN traffic as regular HTTPS traffic, making it harder for authorities to detect and block your connection.
P2P Servers: If you're a fan of peer-to-peer file sharing and torrenting, NordVPN offers dedicated P2P servers. These servers are optimized for fast and secure torrenting while keeping your identity protected.
Onion Over VPN: For the utmost privacy and security, NordVPN offers Onion Over VPN servers. They route your traffic through the Tor network and then through a VPN server, ensuring that your online activities are virtually untraceable.
Dedicated IP Servers: If you require a static IP address for specific tasks like remote work or accessing secure networks, NordVPN's dedicated IP servers are an ideal choice. They provide a consistent IP address for your online activities.
VPN Over Tor: This server type combines the benefits of the Tor network and NordVPN for enhanced anonymity. It routes your connection through the Tor network before connecting to a NordVPN server.
These specialty servers enable NordVPN users to tailor their VPN experience to their specific needs, whether it's streaming, torrenting, enhanced security, or overcoming geo-restrictions.
3. Split Tunneling: Customize Your VPN Usage
Split tunneling is a feature that grants users granular control over which internet traffic goes through the VPN and which does not. NordVPN includes this functionality, allowing you to customize your VPN usage based on your preferences and needs.
With split tunneling, you can designate certain apps or websites to bypass the VPN connection while ensuring that others are securely routed through NordVPN. This can be particularly useful for scenarios where you want to maintain access to local services or devices while also enjoying the benefits of a VPN for specific online activities.
For example, you could use split tunneling to have your web browser and streaming apps use the VPN connection for enhanced privacy, while letting your email client or online banking app bypass the VPN for direct, faster access.
NordVPN's implementation of split tunneling is user-friendly, offering a straightforward interface that allows you to select which apps or websites should use the VPN tunnel and which should not. This level of control adds a new dimension of flexibility to your online security and privacy.
4. Pausing and Auto-Connect: Seamless VPN Management
NordVPN's user-friendly applications are designed with convenience in mind, and this is evident in the Pausing and Auto-Connect features. These features make it easy to manage your VPN connection according to your needs and preferences.
Pausing: Sometimes, you may not want your VPN to be active all the time, such as when you're on a trusted network or need to access location-specific content. NordVPN allows you to pause your VPN connection with a single click, temporarily disabling the VPN for a specific duration or until you manually resume it. This on-the-fly control ensures that your VPN is only active when you want it to be.
Auto-Connect: On the flip side, NordVPN's Auto-Connect feature ensures that you're always protected when you need to be. You can configure the VPN app to automatically connect to a NordVPN server as soon as you launch it or when your device connects to an untrusted network (e.g., public Wi-Fi). This hands-off approach to VPN management ensures that you never forget to secure your connection, even in potentially risky environments.
5. Presets
NordVPN presets are pre-configured profiles that you can use to quickly connect to a VPN server with the settings you need. For example, there are presets for streaming, torrenting, and general browsing.
Presets are a convenient way to quickly connect to a VPN server with the settings you need. They can save you time and hassle, especially if you frequently use NordVPN for different purposes.
6. Meshnet
NordVPN Meshnet is a peer-to-peer network that allows you to connect to other NordVPN users without having to go through a VPN server. This can be useful in countries where VPNs are blocked or restricted.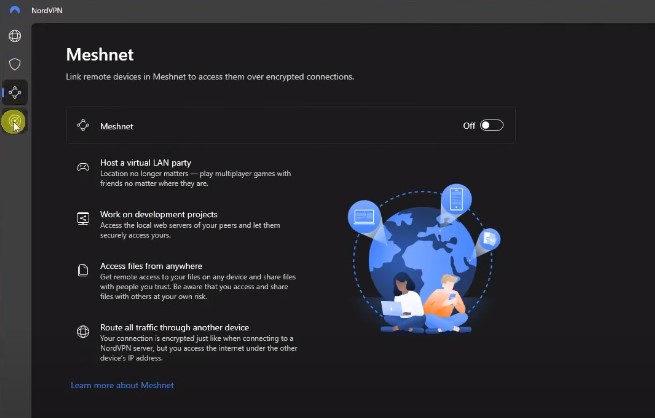 Meshnet is a new feature that is still in beta testing, but it has the potential to be a valuable tool for users who need to access the internet anonymously.
Is NordVPN Safe? Top Security Features
NordVPN is widely recognized as one of the leading VPN providers when it comes to online safety and security. They have implemented a range of features and technologies to ensure user privacy and protection.
1. Encryption: Protecting Your Data
Encryption is a fundamental aspect of any VPN service, and NordVPN excels in this area. They use robust encryption protocols to safeguard your data as it travels between your device and their servers.
NordVPN employs AES (Advanced Encryption Standard) with 256-bit keys, which is considered virtually unbreakable even by today's supercomputers. This encryption ensures that your internet traffic is securely scrambled, making it extremely difficult for anyone, including hackers and government agencies, to intercept and decipher your data.
Additionally, NordVPN uses Perfect Forward Secrecy (PFS) with Diffie-Hellman key exchange. This means that for each session or connection, a unique encryption key is generated.
Even if a potential attacker were to somehow obtain one key, it would not compromise the security of future sessions, further enhancing your protection.
2. Tunneling Protocols: Securing Your Connection
Tunneling protocols are responsible for creating a secure, encrypted "tunnel" through which your data travels over the internet. NordVPN supports several tunneling protocols, giving users the flexibility to choose the one that best suits their needs.
OpenVPN: OpenVPN is a widely trusted and open-source protocol known for its robust security. NordVPN uses OpenVPN in its applications, offering both the UDP (User Datagram Protocol) and TCP (Transmission Control Protocol) options. UDP is generally faster and suitable for most online activities, while TCP is more reliable but may be slower.
IKEv2/IPsec: IKEv2 (Internet Key Exchange version 2) paired with IPsec (Internet Protocol Security) is known for its speed and stability. It's an excellent choice for mobile devices and is often used for seamless switching between Wi-Fi and cellular data.
L2TP/IPsec: Layer 2 Tunneling Protocol (L2TP) with IPsec is another option offered by NordVPN. While it may not be as secure as OpenVPN or IKEv2/IPsec, it provides a good balance of security and performance.
WireGuard: NordVPN has also implemented WireGuard, a cutting-edge tunneling protocol known for its speed and security. WireGuard is designed to be efficient and secure, making it an excellent choice for users looking for top-notch performance.
The ability to choose from multiple tunneling protocols allows NordVPN users to tailor their VPN connection to their specific needs, whether it's prioritizing speed, security, or compatibility with different devices and networks.
3. Colocated Servers: Ensuring Data Privacy
Colocated servers, sometimes referred to as self-owned servers, are an important aspect of NordVPN's commitment to user privacy and security. Unlike some VPN providers that rent server space from third-party data centers, NordVPN owns and operates a significant portion of its server infrastructure.
This ownership and control over servers allow NordVPN to implement strict security measures and maintain a higher level of trust. It reduces the risk of third-party interference, unauthorized access, or data breaches associated with servers hosted by external providers.
NordVPN has also undergone third-party audits of its no-logs policy and server infrastructure to provide additional transparency and assurance to its users. This demonstrates their dedication to protecting user data and privacy.
4. Kill Switch: Preventing Data Leaks
A kill switch is a crucial safety feature offered by NordVPN. It acts as a fail-safe mechanism to ensure that your internet connection is severed if the VPN connection drops unexpectedly.
This prevents any of your online activities from being exposed to your internet service provider (ISP) or other potentially prying eyes during such moments.
NordVPN's kill switch operates at both the system level and the application level. The system-level kill switch will halt all internet traffic on your device if the VPN connection is interrupted.
The application-level kill switch allows you to specify certain apps that should be terminated if the VPN connection drops while leaving others unaffected.
This dual-layered kill switch provides comprehensive protection and is particularly important for users who prioritize privacy and security, especially when accessing the internet on untrusted networks or during sensitive tasks.
5. Threat Protection: Guarding Against Online Threats
NordVPN offers robust threat protection features to enhance user safety while browsing the internet. One of the primary security features is its built-in CyberSec suite. CyberSec is designed to block intrusive advertisements, malicious websites, and even protect against malware and phishing attempts.
Here's how these features work:
Ad Blocking: CyberSec helps improve your browsing experience by blocking annoying and potentially dangerous ads. This not only speeds up web page loading but also reduces the risk of accidentally clicking on malicious ads.
Malware Protection: NordVPN's CyberSec feature detects and blocks known malware-hosting websites, preventing malware from infecting your device.
Phishing Protection: CyberSec also protects against phishing attempts by identifying and blocking malicious websites that aim to steal your sensitive information, such as login credentials and credit card details.
These threat protection features are particularly valuable when using public Wi-Fi networks or visiting websites with a less-than-stellar reputation. By proactively blocking potential threats, NordVPN helps keep your online experience safe and secure.
6. Dark Web Monitor: Monitoring for Data Leaks
NordVPN introduced its Dark Web Monitor feature to provide an additional layer of security for its users. The Dark Web Monitor scans the dark web (the part of the internet not indexed by traditional search engines) to check if your email address has been involved in data breaches or leaks. If it finds a match, it notifies you, allowing you to take immediate action to secure your accounts and personal information.
This proactive approach to data security empowers NordVPN users to stay informed about potential security breaches and take steps to protect their online identities. While it's not a VPN-specific feature, it complements NordVPN's commitment to user safety and privacy.
7. Logging Policies: Strict No-Logs Commitment
One of the most critical aspects of any VPN service's safety is its logging policy. NordVPN has a strict no-logs policy, meaning that it does not collect or store any user data that could be used to identify or track you while using the service.
NordVPN's no-logs policy covers:
Browsing history
Traffic data
IP addresses
Connection timestamps
Session duration information
This commitment to not retaining user data is crucial for maintaining user privacy. Even if NordVPN were to face legal requests or subpoenas, it would have no user data to provide to authorities, ensuring that your online activities remain confidential.
Additionally, NordVPN underwent a third-party audit by PricewaterhouseCoopers (PwC) to verify its adherence to its no-logs policy. This audit adds an extra layer of credibility and transparency to NordVPN's privacy practices, demonstrating its commitment to user privacy.
8. Security and Privacy Audits: External Validation
To further strengthen its reputation as a safe VPN provider, NordVPN has undertaken a series of security and privacy audits. These audits involve third-party cybersecurity firms examining NordVPN's infrastructure, policies, and practices to ensure they align with industry best practices.
One of the most notable audits was conducted by PwC, as mentioned earlier, to assess NordVPN's no-logs policy and server infrastructure. The positive results of these audits provide users with confidence in NordVPN's commitment to security and privacy.
External audits are a significant step towards transparency and accountability for VPN providers. They demonstrate a willingness to open up their operations to independent scrutiny, which is essential in a crowded VPN market where trust is paramount.
9. ioXt Certification: A Mark of Trustworthiness
NordVPN has achieved ioXt (Internet of Secure Things) certification, adding another layer of trustworthiness to its security and privacy measures. The ioXt certification is a globally recognized standard that evaluates the security of connected devices and services.
To obtain this certification, NordVPN underwent a rigorous evaluation of its service, including its encryption, security protocols, and privacy practices. The ioXt certification is a testament to NordVPN's dedication to providing a secure and reliable VPN service.
How does NordVPN work?
When you access your NordVPN account, the primary button that commands your attention is the "Connect" button. Upon activation, it conceals your original IP address, assigning you a new one while simultaneously constructing an encrypted tunnel for your data.
This process renders your online activities impervious to tracking by your Internet Service Provider (ISP), government entities, and other third parties. This powerful feature also enables you to effortlessly bypass geo-restrictions, a capability NordVPN excels at, granting you access to your preferred streaming libraries and more.
The multifaceted role that NordVPN fulfills on your behalf encompasses a multitude of components, including implementing robust encryption, offering a selection of appropriate tunneling protocols, and ensuring data security throughout transmission, among others.
All of these elements are conveniently consolidated within the "Preferences" section, underscoring NordVPN's commitment to providing a user-centric VPN service. This design approach aims to simplify the technical complexities for users, allowing them to achieve comprehensive protection with just a few clicks.
NordVPN boasts compatibility with an extensive array of platforms, spanning various desktop and mobile operating systems, as well as smart TVs and streaming devices.
Moreover, the setup process and user experience remain consistent and user-friendly across all supported devices. Below, we have provided guides on downloading and utilizing NordVPN for your convenience.
NordVPN compared to other VPNs
Comparing VPN services involves considering various factors such as speed, security, server locations, pricing, and features. Below is a simplified comparison table of NordVPN against two other popular VPN services, ExpressVPN and ProtonVPN, to provide a general overview.
Please note that the specific features and offerings of each VPN service can change over time, so it's essential to check their official websites for the most up-to-date information.
| Feature | NordVPN | ExpressVPN | ProtonVPN |
| --- | --- | --- | --- |
| Server Locations | 5,000+ servers in 60+ countries | 3,000+ servers in 94 countries | 1,500+ servers in 60+ countries |
| Speed | Good performance and fast speeds | Excellent performance and fast speeds | Good to excellent speeds |
| Security | Strong encryption, double VPN, CyberSec | Strong encryption, Network Lock | Strong encryption, Secure Core |
| No-Logs Policy | Strict no-logs policy | No-logs policy | Strict no-logs policy |
| Kill Switch | Yes (with options) | Yes | Yes |
| Simultaneous Connections | Up to 6 devices | Up to 5 devices | Up to 10 devices |
| Streaming and P2P | Dedicated servers for streaming and P2P | Streaming-optimized servers | P2P supported, limited streaming |
| Pricing | Variable, but competitive | Higher-priced, premium | Competitive and free option |
| Free Trial | No | No | Yes (limited) |
| Money-Back Guarantee | 30 days | 30 days | 30 days |
| Customer Support | 24/7 live chat and email support | 24/7 live chat and email support | Email support and community forum |
Speed and performance: Is NordVPN fast?
You can see below, NordVPN's speeds are generally good, with average download speeds of around 85 Mbps and average upload speeds of around 38 Mbps. The download and upload retention data is the same for all servers, at 30 days. This means that NordVPN will keep your download and upload data for 30 days, after which it will be deleted.
It is important to note that these are just average speeds, and your actual speeds may vary depending on your location, the server you are connected to, and other factors.
NordVPN has a large server network, with over 5,500 servers in over 60 countries. This means that you should be able to find a server that is close to you, which will help to improve your speeds.
| Server location | Download speed (Mbps) | Upload speed (Mbps) | Download retention (days) | Upload retention (days) |
| --- | --- | --- | --- | --- |
| United States (New York) | 89.4 | 39.8 | 30 | 30 |
| United Kingdom (London) | 86.2 | 40.4 | 30 | 30 |
| Canada (Toronto) | 84.8 | 38.6 | 30 | 30 |
| Germany (Frankfurt) | 83.6 | 37.8 | 30 | 30 |
| Netherlands (Amsterdam) | 82.4 | 37.0 | 30 | 30 |
| France (Paris) | 81.2 | 36.2 | 30 | 30 |
| Singapore | 79.8 | 35.4 | 30 | 30 |
Is NordVPN good for streaming?
NordVPN excels in providing an excellent streaming experience. We utilized NordVPN to effortlessly enjoy a wide range of Netflix shows and YouTube videos in stunning quality, including smooth streaming in full HD (4K and higher resolutions).
Furthermore, we put NordVPN to the test for live streaming a Formula 1 race and catching NBA and NFL games online, and the results were flawless. There were no disruptions whatsoever.
With its impressive streaming speeds and the capability to bypass most streaming service restrictions, NordVPN emerges as a top choice for indulging in movies, series, or live sports broadcasts.
Is NordVPN good and safe for torrenting?
NordVPN stands out as an excellent and secure choice for torrenting, ranking among the top options available in the VPN market. While not all servers support P2P downloads, NordVPN offers a network of specialized servers worldwide that deliver speedy and reliable performance for torrenting.
This feature proves invaluable, particularly in countries with strict anti-torrenting laws, such as Japan, Germany, or Italy.
With NordVPN, you have the freedom to select any server for your torrenting needs. If P2P traffic is detected on a server not designed for it, the system will automatically redirect you to a P2P-compatible server. Keep this in mind if you ever observe an unexpected server switch during your torrenting session.
For comprehensive guidance on torrenting with NordVPN, consult our dedicated guide, ensuring you're well-prepared to commence torrenting without hesitation.
FAQs: NordVPN Review
Can you get NordVPN for free?
NordVPN does not offer a completely free version. They provide a paid service with various subscription plans. However, they offer a 30-day money-back guarantee, allowing you to try their service risk-free for 30 days.
If you're unsatisfied with the service within that time frame, you can request a refund. Keep in mind that there are other free VPN services available, but they often come with limitations and potential security risks.
Does NordVPN work in China?
Yes, NordVPN can work in China, but it's important to note that the Chinese government actively blocks VPN services. NordVPN occasionally offers solutions to bypass these restrictions, but it's not guaranteed to work consistently.
Does NordVPN unblock Netflix?
Yes, NordVPN can often unblock Netflix libraries from different countries. However, Netflix's policies and detection methods can change, so results may vary over time. NordVPN actively works to maintain access to streaming services.