WooCommerce Conversion Tracking is vital for measuring and analyzing sales data, optimizing marketing strategies, and increasing conversion rates on your WooCommerce site, ultimately driving higher revenue and business growth.
Conversion tracking helps identify effective marketing channels, optimize campaigns, and understand customer behavior, enabling data-driven decision-making.
By analyzing conversion data, businesses can refine strategies, allocate resources effectively, and make informed decisions to drive future growth and maximize ROI.
What is Conversion Tracking?
Conversion tracking for WordPress and WooCommerce involves monitoring and measuring specific actions taken by website visitors that lead to desired conversions, such as purchases or form submissions.
It provides valuable insights into customer behavior, helps optimize marketing efforts, and improves conversion rates.
By tracking conversions, businesses can identify successful strategies, make data-driven decisions, and improve overall website performance, making it highly beneficial for businesses using WordPress and WooCommerce.
Top WooCommerce Conversion Tracking Plugins
WooCommerce Conversion Tracking by WeDevs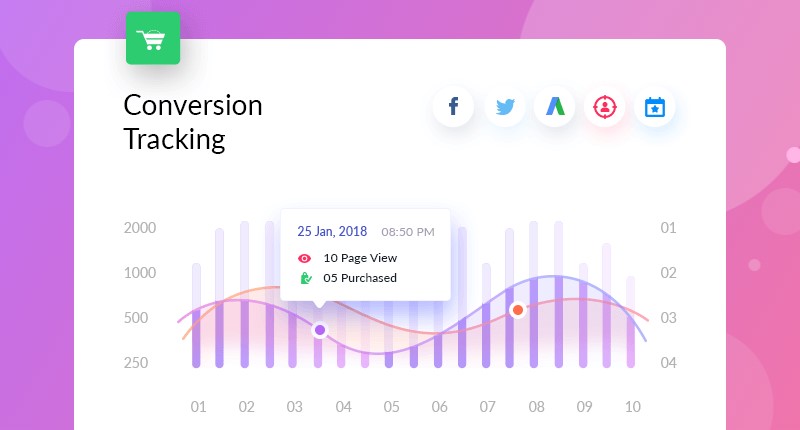 The WooCommerce Conversion Tracking Plugin is a powerful tool designed to help e-commerce store owners track and analyze their conversion rates. Developed by WeDevs, this plugin integrates seamlessly with WooCommerce, one of the most popular e-commerce platforms.
With this plugin, users can effortlessly set up conversion tracking for their online stores, allowing them to monitor the effectiveness of their marketing campaigns and optimize their sales funnel.
It provides valuable insights into customer behavior, such as tracking conversions from different traffic sources, measuring the success of specific products or promotions, and understanding the overall performance of the store.
Features
Seamless integration with WooCommerce platform
Comprehensive conversion tracking for various goals
Real-time monitoring and reporting of conversions
Ability to connect multiple ad platforms
Ability to track completed purchases and revenue
Tracking of abandoned carts and cart recovery analysis
Conversion tracking for newsletter sign-ups and subscriptions
Customizable conversion tracking for specific events or actions
Advanced analytics and insights on customer behavior
Data-driven decision-making for optimizing marketing strategies
Increase in online sales and revenue through improved conversions
Pricing
Free – Always Free
Starter – $99/year
Sales Analysis for WooCommerce
The Sales Analysis for WooCommerce provides comprehensive reporting for marketers and managers, enabling them to gain valuable insights into essential metrics such as international sales, revenue, product trends, and customer behavior.
Features
Comprehensive Reporting
Key Metric Analysis
International Sales Insights
Revenue Tracking
Product Trend Analysis
Customer Behavior Insights
Customizable Reports
Data Visualization
Performance Comparisons
Sales Forecasting
Inventory Management
Segment Analysis
Exportable Reports
User-friendly Interface
Real-time Data Updates
Pricing
$10.75/month, Billed annually at $129
WooCommerce Google Analytics Pro
WooCommerce Google Analytics Pro optimizes the integration between your WooCommerce store and your free Google Analytics account, providing you with comprehensive data on your website's traffic and eCommerce events. Utilize this information to refine your sales funnel and boost revenue. Enjoy Detailed Tracking with a User-Friendly Setup Process.
Enhance Your WooCommerce Site with Advanced Event Tracking and Enhanced eCommerce Tracking. Gain Valuable Insights Into Your Sales Funnel Using Google Analytics Pro.
Features
Advanced event tracking
Enhanced eCommerce tracking
Comprehensive traffic insights
Detailed eCommerce event tracking
Optimization of the sales funnel
Increased revenue generation
Easy setup process
Integration with Google Analytics
Accurate tracking of website visitors
Customizable tracking options
Pricing
$6.59/month, Billed annually at $79
Monsterinsights – Google Analytics Plugin for WordPress
MonsterInsights is a popular Google Analytics plugin for WordPress that simplifies the integration and usage of Google Analytics on your website. It provides comprehensive tracking, insightful reports, and user-friendly features to help you make data-driven decisions and optimize your WordPress site's performance.
Features
Easy Google Analytics integration
Real-time stats dashboard
Enhanced eCommerce tracking
Custom dimensions and events tracking
Affiliate link tracking
Search Console Report
Form conversion tracking
File download tracking
Scroll tracking
GDPR compliance features
Actionable Google Analytics for WooCommerce
Actionable Google Analytics for WooCommerce is an effortless plugin that seamlessly connects your WooCommerce store with Google Analytics in a matter of minutes. You don't need any coding skills to set it up.
With Actionable Google Analytics, you gain access to 9 enhanced eCommerce reports within your Google Analytics account, providing valuable insights into audience, behavior, and acquisition.
Moreover, this plugin offers convenient tracking of FB pixel, Google Ads conversions, and integration with Google Optimize, empowering your store with powerful analytics tools.
FAQs
How do I track conversions in WooCommerce?
To track conversions in WooCommerce, you can utilize the WooCommerce Conversion Tracking plugin by WeDevs.
This plugin seamlessly integrates with your WooCommerce store and allows you to track various conversions, including completed purchases, newsletter sign-ups, or form submissions.
Simply install the plugin, configure the settings, and specify the conversions you want to track. The plugin will handle the rest, providing you with valuable insights into the success of your online store.
What is the best conversion tracking plugin for WooCommerce?
When it comes to the best conversion tracking plugin for WooCommerce, the WooCommerce Conversion Tracking plugin by WeDevs stands out. It offers comprehensive conversion tracking features, seamless integration with WooCommerce, and compatibility with popular analytics platforms like Google Analytics, Facebook Pixel, and more.
With this plugin, you can easily track conversions, monitor the effectiveness of your marketing campaigns, and optimize your store for maximum conversions.
How do I add Google conversion tracking to WooCommerce?
Adding Google conversion tracking to WooCommerce is a straightforward process. Start by creating a Google Ads account and setting up a conversion action within your account. Obtain the conversion tracking code provided by Google Ads.
Then, install a suitable plugin like WooCommerce Conversion Tracking by WeDevs. Configure the plugin by entering your Google Ads conversion tracking code. The plugin will automatically insert the tracking code on the relevant pages of your WooCommerce store.
Test the tracking by performing a conversion action, and Google Ads will start tracking the conversions on your WooCommerce site.