As an artist, showcasing and selling your artwork online opens doors to a global audience and lucrative opportunities.
However, navigating the vast array of online platforms can be overwhelming. This in-depth guide explores the best online marketplaces and platforms for artists to sell their artwork.
From popular websites to niche platforms, I go through into the features, pros, and cons, empowering artists with the knowledge they need to make informed decisions and establish a successful online art business.
Top Online Platforms for Selling Art
Saatchi Art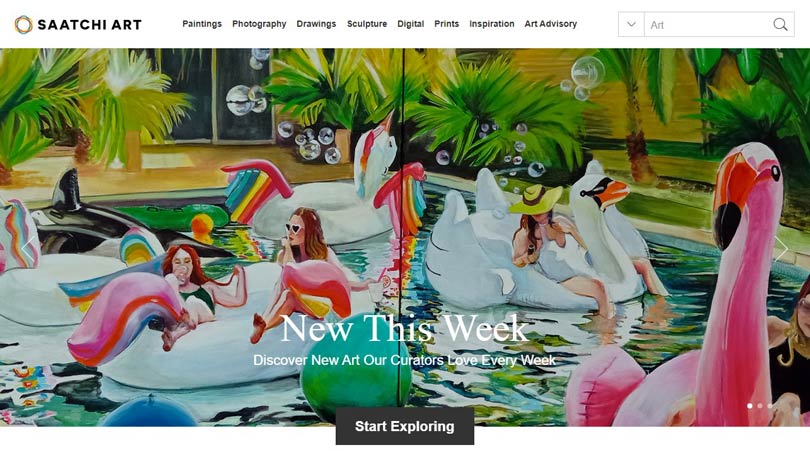 Saatchi Art is a prestigious online platform that caters specifically to artists, providing a curated marketplace for original artworks.
Artists must apply to become a Saatchi Art seller. Once approved, they can list and sell their original artworks, gaining exposure to a discerning art-loving audience.
Saatchi Art handles the entire sales transaction, and artists receive payments through PayPal or bank transfer. Saatchi Art curates the artworks on its platform to maintain a high standard of quality. Artists must provide accurate descriptions and details about their artwork.
Etsy
Etsy is a well-established online marketplace known for its diverse range of handmade, vintage, and artistic products. It attracts millions of buyers seeking unique, one-of-a-kind creations.
Artists can create their own Etsy shop to list and sell their artwork. They upload high-quality images, write engaging descriptions, and set competitive prices. Etsy offers multiple payment options, including credit cards, debit cards, and PayPal.
Artists must comply with Etsy's policies, which include intellectual property rights, copyright infringement, and accurately representing the artwork.
Artfinder
Artfinder is an online marketplace that focuses on connecting independent artists with art collectors, emphasizing affordable and original art pieces.
Artists can create their Artfinder profile and list their artworks for sale. They can set their own prices and manage their inventory. Artfinder handles payment processing and pays artists through PayPal or bank transfer.
Artfinder encourages artists to actively engage with their audience and provides marketing tools to promote their artwork.
Society6
Society6 is a unique platform that offers print-on-demand services, allowing artists to upload their designs and apply them to various products.
Artists upload their designs, and Society6 handles the production, shipping, and customer service for the products.
Society6 pays artists a portion of the retail price for each product sold, and payments are made through PayPal. Artists must ensure that their designs meet Society6's guidelines and maintain a strong presence to attract customers.
Redbubble
Similar to Society6, Redbubble is a print-on-demand platform that offers a wide range of products for artists to showcase their work.
Artists upload their designs, and Redbubble handles the production and shipping of products to customers.
Redbubble pays artists a percentage of the markup price for each product sold, and payments are made through PayPal or bank transfer. Artists must adhere to Redbubble's guidelines to ensure their designs are suitable for various products.
Artplode
Artplode is an online art marketplace that caters to both established and emerging artists. Sellers can list their artwork directly, setting their prices and handling transactions themselves. The platform attracts serious art buyers and collectors, making it a great place to showcase and sell high-quality artwork.
DeviantArt
DeviantArt is a vibrant community of artists and art enthusiasts. Artists can create a profile, upload their artwork, and engage with a large audience. While selling is not the primary focus, artists can offer prints, digital downloads, or original artwork through their profile.
ArtPal
ArtPal is an artist-friendly platform that allows artists to set up their online gallery and sell their artwork directly to buyers. Artists can list unlimited artwork for free, and the platform provides various print-on-demand options for art prints and products.
Zatista
Zatista is a curated art marketplace that connects artists with collectors. Artists must apply to join, and once accepted, they can list and sell their original artwork. The platform emphasizes transparency, and artists receive 100% of the sales price.
Fine Art America
Fine Art America is a print-on-demand platform that enables artists to sell their artwork as prints, canvases, home decor, and more. Artists can upload their artwork, set their prices, and the platform handles printing, shipping, and customer service.
How to Make Money as an Artist or Creative
The arts are a vital part of our culture, and artists play a unique and important role in society. However, making a living as an artist can be challenging.
There are many different ways to make money as an artist, and the best way for you will depend on your individual skills, interests, and goals.
Selling original artwork: This is the most traditional way for artists to make money. You can sell your work through galleries, online marketplaces, or directly to collectors.
Commissions: Artists can also make money by taking commissions. This involves creating custom artwork for a specific client.
Teaching art: Artists can teach art classes at schools, community centers, or online. This is a great way to share your passion for art with others and make some money in the process.
Licensing your work: Artists can also make money by licensing their work. This means allowing others to use your artwork for commercial purposes.
Royalties: If you are a musician or songwriter, you can make money from royalties. This is a percentage of the profits that are generated from the sale of your music.
Develop a strong online presence: This means creating a website or blog to showcase your work, and being active on social media.
Network with other artists and art professionals: This is a great way to get your work seen by potential buyers and clients.
Attend art fairs and exhibitions: This is a great way to meet potential buyers and promote your work.
Be persistent: It takes time and effort to build a successful career as an artist. Don't give up on your dreams!
Be willing to experiment with different mediums and styles: This will help you to find your unique voice as an artist and attract a wider audience.
Don't be afraid to self-promote: This means letting people know about your work and where they can find it.
Be patient: It takes time to build a successful career as an artist. Don't expect to become rich overnight.
How Can I Sell My Art Online for Beginners?
Selling art online can be a rewarding venture for artists looking to reach a broader audience and establish their presence in the digital art market.
As a beginner artist, navigating the various online platforms and marketing strategies may seem daunting.
1. Build a Strong Online Presence: Start by creating a professional portfolio website or use art-focused platforms that offer a user-friendly interface. Display high-quality images of your artwork, write engaging artist statements, and provide insights into your creative process. Showcase your uniqueness to captivate potential buyers.
2. Choose the Right Online Platforms: Research and identify the online platforms that align with your art style and target audience. Consider established marketplaces like Etsy, Saatchi Art, or Artfinder, or explore print-on-demand platforms like Society6 and Redbubble for greater product diversity.
3. Set Competitive Prices: Price your artwork competitively while considering factors like materials, time invested, and your artistic experience. Conduct market research to understand the pricing trends for similar artwork.
4. Optimize Art Descriptions: Craft compelling descriptions that highlight the emotions and inspiration behind each artwork. Use keywords relevant to your art style and subject matter to improve visibility in search results.
5. Leverage Social Media: Promote your art on social media platforms to expand your reach and engage with potential buyers. Share behind-the-scenes glimpses, art-making processes, and exhibition updates to build a loyal following.
6. Engage with Art Communities: Join online art communities, forums, and groups to connect with fellow artists and art enthusiasts. Participate in discussions, seek feedback, and collaborate to grow your network.
7. Utilize Email Marketing: Collect email addresses of interested buyers and art enthusiasts through your website or online platforms. Send regular newsletters to keep them updated about your latest artwork, exhibitions, and exclusive offers.
8. Offer Exceptional Customer Service: Ensure prompt responses to inquiries and orders. Provide excellent packaging and shipping services to leave a lasting impression on buyers.
9. Participate in Virtual Events: Join virtual art fairs, exhibitions, or art festivals to gain exposure and connect with potential buyers worldwide.
10. Monitor Your Progress: Regularly track the performance of your art listings, sales, and marketing efforts. Analyze what works best for your art business and make necessary adjustments to optimize your success.
Can You Sell Your Own Paintings Online?
Yes, you can sell your own paintings online. You will need to create a website or online store, and then list your paintings for sale. You will need to set your prices and shipping costs, and then promote your site to potential buyers.

There are many ways to do this, including social media marketing, search engine optimization, and pay-per-click advertising.
Is It Worth Selling Art Online?
Selling art online can be a worthwhile endeavor for artists seeking broader exposure and potential financial gains. The digital age has transformed the art market, offering artists access to a global audience and diverse online platforms.
Online art sales have experienced significant growth in recent years, with more art enthusiasts turning to the internet to discover and purchase artwork.
One of the main advantages of selling art online is the ability to reach a vast and diverse audience. Online marketplaces and social media platforms allow artists to showcase their creations to potential buyers worldwide, breaking down geographical barriers.
Also Read: How to Sell Business Cards Online
Moreover, online art sales provide artists with greater control over pricing and inventory management. They can set competitive prices and tailor their listings based on market demand and their artistic journey.
Real-world examples showcase successful artists who have built thriving online art businesses. Through strategic marketing, engaging social media presence, and collaborations, these artists have reached thousands of buyers and collectors, turning their passion into a lucrative career.
While there are challenges and competition in the online art market, the potential rewards outweigh the risks. By leveraging the power of the internet, artists can establish a robust online presence, connect with art enthusiasts, and turn their artistic talent into a profitable venture.
As the digital art market continues to expand, selling art online remains a valuable and rewarding opportunity for artists to share their creativity with the world.
How Do I Sell My Art Independently?
Selling art independently involves taking charge of your art career without relying on galleries or art agents. As an independent artist, you have the freedom to set your own prices, control your branding, and directly interact with customers.
Utilizing online platforms like your website, social media, and online marketplaces allows you to reach a global audience and establish a personal connection with buyers.
Real-world examples of successful independent artists showcase how they have leveraged social media to build a loyal following and used e-commerce platforms to sell their artwork directly to collectors.
While selling independently requires effort in marketing, customer service, and logistics, it offers the opportunity for higher profits and artistic autonomy, making it an attractive choice for artists seeking creative and financial independence.